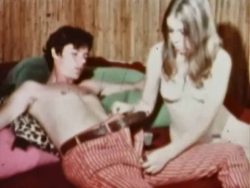 First Love. U.S.A. 8mm softcore sex loop, 1970s. Sex Educational material.
Couples, Sex education, Sexy girls, Blonde, Hot body, Bedroom settings, Hairy pussy, Sex toys, Sex simulation, Softcore sex.
* As you observe in this dramatization, the sexually adjusted post-pubscent female initially meats the heterosexual overture with a token resistance display, but quickly responds to the healthy and affectionate impluses of her nature.
As the following simulations shows fellatio may play a significant role her pre-coital behavior.
Typically, however, fellatio is a prelude to the coital act itself, of which numerous variations of partner attitude are possible.
Two such variations are dramatized here ….
Size: 144Mb
Type: mp4
Duration: 00:08:27
Resolution: 768 x 576
* First Love subtitles