WordPress database error: [Table './admin_kent/wp_postmeta' is marked as crashed and last (automatic?) repair failed]
SELECT post_id, meta_key, meta_value FROM wp_postmeta WHERE post_id IN (206926,206927,206929,206925,206928,159283) ORDER BY meta_id ASC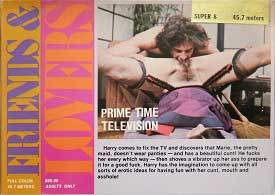 Prime Time Television. Friends & Lovers series. U.S.A. 8mm film. Super 8. 45.7 meters.
Classic, 8mm sex film, Twosome sex, Maid girl, Brunette, Skinny, Living room settings, Blowjob, Straight sex, Facial.
Featuring Solange Shannon and unknown guy.
5 Prime Time Television. Harry comes to fix the TV and discovers that Marie, the pretty maid, doesn't wear panties. He fucks her every which way then shoves a vibrator up her ass to prepare it for a good fuck.
Harry has the imagination to come up with all sorts of erotic ideas for having fun with her cunt, mouth and asshole!.
Size: 161Mb
Type: mp4
Duration: 00:08:11
Resolution: 768 x 576