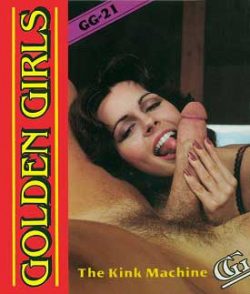 Golden Girls 21 – Kink Machine. Classic 8mm hardcore sex loop, featuring Bridgette Monet and David Cannon.
Golden Girls U.S.A. produced and published classic sex film, 1981.
Twosome sex, Sexy brunette girl, Sexy body, Big tits, Sexy lingerie, Hairy pussy, Pussy licking, Blowjob, Straight sex, Facial, Cumshot.
Two versions available.
GG-21 THE KINK MACHINE. Fred and Felicia are admiring their new toy. A unique sex gymnasium which allows people to enjoy unusual sexual positions.
The more they talk about it's possibilities, the more turned-on they get and the results are spectacular sexual fireworks.
The raven-haired beauty is truly a sex-machine herself, as she screws living daylights out of poor Fred – who eventually empties his over-loaded cock all over her luscious and receptive body!
Size: 149Mb
Type: mp4
Duration: 00:07:53
Resolution: 768 x 576
Size: 248Mb
Type: mp4
Duration: 00:12:28
Resolution: 768 x 576