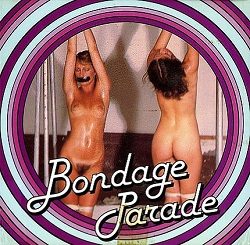 House of Milan – Bondage Parade. House of Milan (HOM) 8mm bondage sex loop series. US filmed and published film footage. Two girls (2f). Bondage themed loop, rope, mistress.
Super 8mm color hardcore sex film. With audio (music).
A NUDE BONDAGE MOVIE! If its bondage you want . . it's bondage you get with BONDAGE PARADE.
From the beginning with the beautiful, raven-haired, innocent girl pleading to you with her wide eyes to the finish with two damsels tied back to back, well spread and vulnerable. A full SIX damsels on distress, stripped of their clothes, bound, gagged and captured on film to the delight of everyone . . except them! From start to finish, the cameera savors the curvaceous captivity and futile struggles of the girls as they try to adjust their tender, bare flesh against the cruel, biting ropes and mouth-watering gags forced upon them.
Size: 250Mb
Type: mp4
Duration: 00:08:53
Resolution: 856 x 480