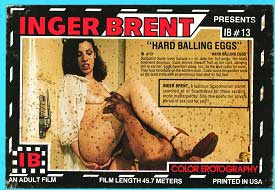 Inger Brent 13 – Hard Balling Eggs. Featuring Susaye London and John Black.
INGER BRENT, a luscious Scandinavian starlet, searched all of Scandinavia for these exciting erotic masterpieces! She now opens her private library of sex just for you!!
USA produced Interracial 8mm sex loop, 1970s. Sexy girl, Brunette, Skinny, Kitchen sex, Pussy licking, Blowjob, Straight sex, Facial.
13 Hard Balling Eggs. Succulent Suzie loves banana's–so does her hot pussy.
Her black boyfriend desirous, Suzie shoves the soft fruit up her cunt, allowing him to eat her.
Eggs have their place, too, as the stud sucks for more They fuck forcefully on the kitchen chair.
Suzie sucks his swollen cock as the feast ends with an enormous load shot on her face.
Size: 337Mb
Type: mp4
Duration: 00:09:20
Resolution: 1080 x 720