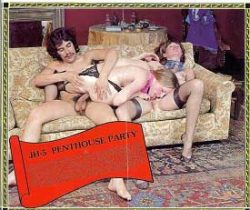 John Holmes JH 5 – Penthouse Party. Featuring Paula Wain, unknown girl and Don Fernando.
John Holmes International Erotic Film series, published by Swedish Erotica.
Threesome sex (2 girls – 1 guy). Sexy girls, Couch sex, Shaved, Hairy pussy, Blowjob, Pussy licking, Lingerie, Sex from behind, Straight.

JH 5
Penthouse Party
. Two seductive young girls are dreaming up some naughty action as they discuss their plans while sitting on a couch.
They walk to a rendezvous with the guy they've chosen, and pass some of the local color. Then they go to the executive's office in the top penthouse suite and begin to undress him.
He loves it, as first one girl then the other uses her full mouth and soft hands to caress him to the point of no return.
Then he joins in and shows them a trick or two, finally allowing them to finish him off in a most delightful way.
Size: 190Mb
Type: mp4
Duration: 00:07:32
Resolution: 768 x 576