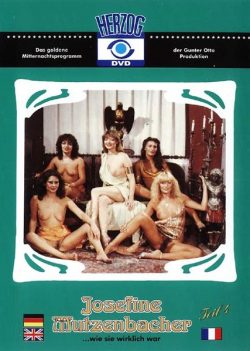 Josefine Mutzenbacher … wie sie wirklich war Teil 4 (1982). West Germany, 1982. Classic adult feature film, directed by Gunter Otto.
Featuring Siggi Buchner, Ernst Kraus, Margit Ojetz, Jurgen Winter.
Classic porn, Feature film, Adult, Sexy girls, Straight sex, Hairy pussy.
A jaw-dropping beautiful star (Patricia Rhomberg — would love to see how she turned out in middle age), her ripe body oozing sexuality in every scene … male actors who look like regular guys (not gym-rat studs) … brother-sister sex … stepfather-stepdaughter sex … landlady-boarder sex … sex-with-the-horny-bitch-from-the-alley sex … priest-penitent sex … take-me-when-I'm-sleeping sex … threesomes … foursomes … voyeurism … masturbation … light S&M … hand-jobs … blow-jobs … lingerie modeling … in fact just about every kind of sex except anal and animal. Gee, I wonder if Russ Meyer had a hand in making this?
Size: 699Mb
Type: avi
Duration: 01:21:06
Resolution: 512 x 384