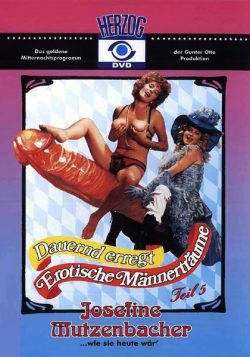 Josefine Mutzenbacher Teil 5 (1983). AKA Josefine Mutzenbacher Teil 5 … wie sie heute war Dauernd erregt Erotische Mannertraume.
Classic adult feature film, directed by Gunter Otto. West Germany, 1983. Featuring Carmen Chevalier, Jaqueline Frank, Willi Stenz, Titus Sting.
Join Josefine Mutzenbacher in an awesome lust-filled adventure where she helps others to explore their sexual side and brings out their sexual fantasies. From blowjobs, to threesomes and orgies Josefine Mutzenbacher will have you at the edge of your seat and will never leave you disappointed!
Size: 700Mb
Type: avi
Duration: 01:22:01
Resolution: 512 x 384