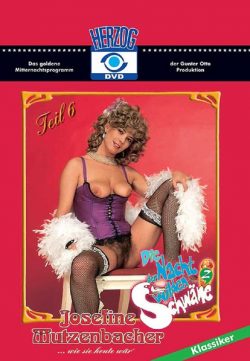 Josefine Mutzenbacher Teil 6 (1983). AKA Josefine Mutzenbacher Teil 6 … wie sie heute war Die Nacht der wilden schwanze.
Classic adult feature film, directed by Gunter Otto. West Germany, 1983.
Featuring Carmen Chevalier, Claudia Mehringer, Jaqueline Frank, Leila Vigso, Rosl Mayr, Tanja Fielmann, Willi Stenz, Fridolin Muller, Titus Sting.
The setting—a quaint country home nestled in the verdant hillsides of an idyllic German forest. Who can think of better place to get it on, rough and tumble style, with some hot and willing babes? The dream sequence concluding this steamy tale is the perfect climax you don't want to miss!
Size: 696Mb
Type: avi
Duration: 01:29:34
Resolution: 512 x 384