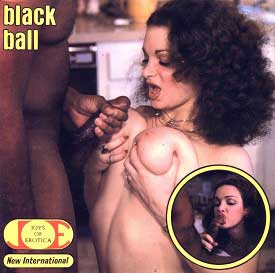 Joys Of Erotica 213 – Black Ball. Joys Of Erotica (JOE) – New International.
US produced 8mm vintage color sex loop, featuring Sue Nero and Jonathon Younger. Interracial sex (f, bm).
Twosome sex, Brunette girl, Busty, Big tits, Hairy pussy, Sex from behind, Blowjob, Straight sex, Facial.
213 Black Ball. Glad to have the refrig fixed, Sheila offers Bud a cheese and wine snack, then unveils the real dessert, her luscious full breasts.
She goes down on his big black cock, sucking him to throbbing erection and gets fucked royally He flips her spiked heels over his shoulders and rams her good.
Then he fucks her tits and cums into her hot mouth. She licks it off her nipples.
Size: 199Mb
Type: mp4
Duration: 00:07:44
Resolution: 768 x 576