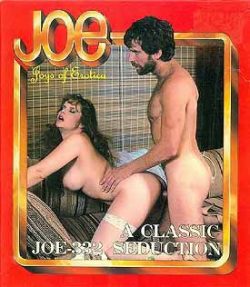 Joys Of Erotica 332 – A Classic Seduction. U.S.A. 8mm hardcore sex film, 1980s.
Joys Of Erotica (JOE) 8mm sex loop, featuring Heather Thomas and Paul Thomas.
Twosome sex, Sexy girl, Busty, Big tits, Hot body, Bedroom settings, Hairy pussy, Blowjob, Sex from behind, Straight sex.
#332 A Classic Seduction. Paul Thomas paraphrases literature in his seduction of big-busted Babs.
She gorges her tonsils on his tongue depressor, and rides him until he cums in quarts!
Size: 83.9Mb
Type: mp4
Duration: 00:06:14
Resolution: 768 x 576
Size: 213Mb
Type: mp4
Duration: 00:10:05
Resolution: 768 x 576
* Magazine scans