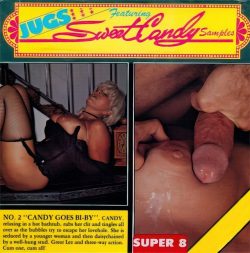 Jugs Sweet Candy 2 – Candy Goes Bi-By.
Jugs Sweet Candy sex film series, related to Big Tit.
Featuring Candy Samples, Sandy Dempsey and Richard Smedley.
Classic, 8mm sex film, Sexy mature girls, Hot body, Busty, Big tits, Bedroom sex, Hairy pussy, Blowjob, Straight sex, Lesbian.
* Film footage part of: Million Dollar Mona (1973).
Size: 214Mb
Type: mp4
Duration: 00:07:33
Resolution: 768 x 576