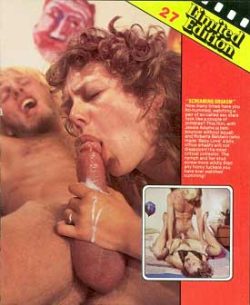 HD Limited Edition 27 – Screaming Orgasm. Limited Films.
US produced 8mm hardcore sex film, featuring Roberta Baldwin and Jesse Adams. US produced and published.
Twosome sex (1 girl – 1 guy). Sexy girl, Sexy ass, Hairy, Sex from behind, Straight sex, Facial.
#27 Screaming Orgasm. How many times have you ho-hummed, watching a pair of so-called sex stars fuck like a couple of zombies?
This film, with Jessie Adams (a bed-bouncer without equal) and Roberta Baldwin (who made 'Baby Love' a box office smash) will not disappoint the most critical collector.
The nymph and her stud screw more wildly than any horny Puckers you have ever watched cumming!.
Size: 351Mb
Type: mp4
Duration: 00:08:11
Resolution: 1024 x 768