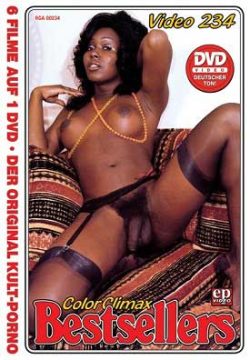 HD Color Climax – Bestsellers 234. 6 movies on 1 dvd – the original cult porn.
Including: Fuckologist, Champagne, Hot Thai Fucker, Rich and Randy and Wet Weekend.
Bestsellers Color Climax 8mm vintage sex loop compilation. Denmark, 1970s.
Featuring Brigit, Christina, Chulida, Joyce, Lene, Swanee and Ulla.
Compilation, Sexy girls, Group sex, Skinny, Outdoor, Hairy, Pussy licking, Blowjob, Straight sex, Facial.
1. Fuckologist
The gynecologist Dr. H. does not stick to the rules. The assistant is horny with the female patients. They know he also has an effective fuck machine…
2. Champagne
In one wet horny party the sparkling wine flows in rivers, but… among other things, one of the girls squirt the equivalent of four people. And fucking comes naturally and not too briefly…
4. Hot Thai Fucker
An exotic Thai girl with tasty tits, studies a Color Climax magazine and would like to copy the things shown. No problem, she and her friends do it better than the horny pictures…
5. Rich and Randy
Katja and her friend bought themselves brand new underwear, sexy enough to show all their charms to their friend. That naturally leads to fucking like rabbits…
6. Wet Weekend
Clare and Jorgen, a bizarre couple, are bored on rainy weekends, but soon they invite other couples who are easily turned on. In plain language: they wildly fuck and piss…
Size: 2.20Gb
Type: mp4
Duration: 00:51:07
Resolution: 1024 x 768