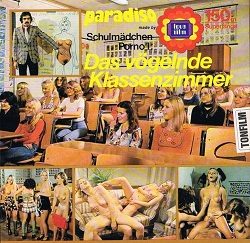 Love Film – Paradiso 599 – Schulmadchen Porno I – Das vogelnde Klassenzimmer. Schoolgirl Porn I – the fucking classroom. 150 meter.
Super 8 Color. Germany produced 8mm vintage color sex loop, featuring Angelika Duvier, Bärbel Mössinger and Gina Janssen amongst others. Love Film Programm.
Group sex, Orgy, School settings, Sexy girls, Legal teens, Schoolgirl outfit, Hairy pussy, Lesbian sex, Blowjob, Straight sex, Facial.
Very good video quality.
Size: 520Mb
Type: avi
Duration: 00:19:59
Resolution: 1024 x 720