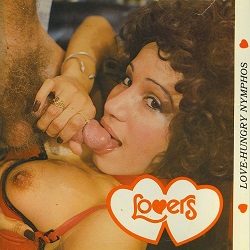 Lovers Film 1 – Sexy Photographer. Love Hungry Nymphos Lovers. @1979 Rosebud Productions. US produced 8mm regular sex film, featuring unknown female and Dave Ruby. Twosome sex. Mature girl. Brunette. Big tits. Hairy pussy. Blowjob. Straight sex. With audio (music). Two versions available.
SEXY PHOTOGRAPHER – Bobby, a very sexy photographer, is called to take pictures of one of his foxiest models. When Karen arrives, she's just as ready to go as he is.
She pulls out his monstrous tool and begins to suck it to a successful hard-on. Bob-by then spreads Karen's voluptuous thighs only to reveal a very creamy pussy, which is much too inviting to pass up. He shoves his cock into her, fucking her to a shattering climax, and then finally unleashes his heavy load of cum.
Size: 139Mb
Type: avi
Duration: 00:07:19
Resolution: 640 x 464
Size: 196Mb
Type: avi
Duration: 00:06:26
Resolution: 854 x 480