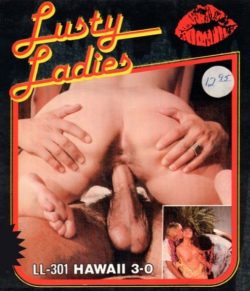 Lusty Ladies 301 – Hawaii 3-0. Lusty Ladies 8mm hardcore sex film, featuring Mai Lyn, Herschel Savage and Jesse Adams. US produced sex loop. Threesome sex.
Classic, 8mm film, sexy girl, oriental model, hot body, mature, living room settings, hairy pussy, blowjob, hardcore sex, facials. With audio (music).
Passionate Mai Lyn has a problem. Working nights at the Chinese deli has ruined her sex life. Desperate for action she telephones Jesse and Roy to plan a threesome that fries everybody's rice! They meet on Roy's houseboat in the Waikiki Harbor and strip immediately. Jesse makes chop suey out of Lyn's dripping cunt while Roy has his sweet and sour dork sucked off. The guys switch until Mai Lyn's hot lips and cunt suck two cum from both her lover's cocks.
Size: 248Mb
Type: mp4
Duration: 00:08:18
Resolution: 640 x 480