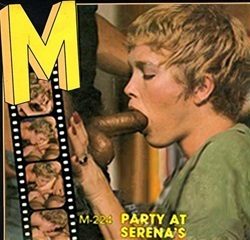 M Series 224 – Party At Serena's. M Series 8mm vintage sex loop, featuring Serena, Tawny Pearl and Billy Dee amongst others. US produced and published film footage.
Group Sex, Sexy Girls, Hot Body, Blonde, Skinny, Outdoor, Living room Settings, Hairy Pussy, Blowjob, Straight Sex, Interracial, Facial. With audio.
Partial footage from this loop also used for: Comet-Film 6 – Der Sundenpool
Two versions available.
Party At Serena's. Serena and some guy are fucking their brains out when her guests arrive early. The guests jump into the pool and start without her. After Serena takes Jimmy's hot load of cum, she takers on the party guests one by one, using all their sexual parts to satisfy all of hers.
Size: 257Mb
Type: avi
Duration: 00:13:38
Resolution: 720 x 480
Size: 373Mb
Type: avi
Duration: 00:19:46
Resolution: 854 x 480