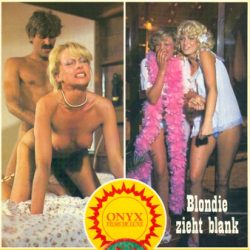 Onyx Film H29 – Blondie Zieht Blank. Onyx Film De Luxe. 120 Meter Super 8 Color. Color sex film. Germany published.
Classic, 8mm Film, Sexy Mature Girls, Blonde, Brunette, Small Tits, Hot Body, Bedroom Settings, Hairy Pussy, Masturbation, Blowjob, Sex from Behind, Hardcore Sex, Facial. With audio.
Film footage is part of adult feature film Gier unter Palmen (1980).
Size: 401Mb
Type: avi
Duration: 00:18:10
Resolution: 640 x 480