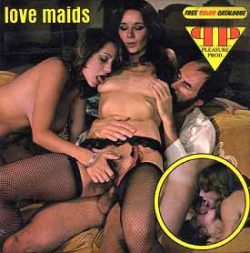 HD Pleasure Production 2089 – Love Maids. Threesome sex (2 girls – 1 guy).
U.S.A. produced 8mm color sex loop, featuring Sarah Harris, Sonya Summers and Aaron Stuart.
Sexy girls, Mature, Skinny, Sexy ass, Hairy, Pussy licking, Blowjob, Anal sex, Straight, Lesbian, Facial.
* Second version: Pleasure Production 2089
2089 Love Maids. Aaron walks in on his two live-in maids making love, which is okay with him if he can participate, which he does.
As soon as their beautiful lingerie clad bodies are fully exposed, they undress him and rouse him to a feverish pitch.
Then, taking his pick of their beautiful asses, he enters one and takes his pleasures with both.
Size: 290Mb
Type: mp4
Duration: 00:08:38
Resolution: 1024 x 768