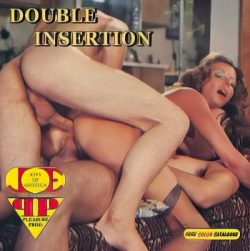 Pleasure Production 1999 – Double Insertion. US produced 8mm hardcore sex film, featuring Mimi Morgan, Blair Harris and Don Robertson.
US published and produced.
Classic, 8mm film, Threesome sex, Brunette, Mature girl, Hot body, Hairy pussy, Sexy ass, Blowjob, Anal, Double penetration, Straight sex, Facial.
Loop footage also used for: M Series 209 and Kinque Erotica 1001 (different versions)
Two versions available.
#1999 Double Insertion. This film is undoubtedly one of the all-time classics of double penetration erotica.
Suzanne, the film's star, has never before had both a cock in her beautiful ass and in her pretty pussy at the same time.
Suzanne's super sexuality and the flowing, sensitive camera work-revealing the finest details of Suzanne's encounter-combine to make this film the erotic masterpiece it is.
Size: 120Mb
Type: mp4
Duration: 00:05:23
Resolution: 768 x 576
Size: 326Mb
Type: mp4
Duration: 00:13:11
Resolution: 768 x 576