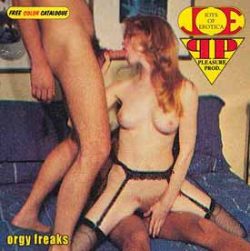 Pleasure Production 2000 – Orgy Freaks. Pleasure Production(s).
Classic 8mm loop film, featuring Dorothy LeMay, Blair Harris and Jon Martin. U.S.A., 1980s.
Threesome sex (1 girl – 2 guys). Sexy girl, Girl dancing, Hot body, Hairy pussy, Bedroom sex, Sexy ass, Blowjob, Straight sex, Facial.
* AKA M Series 211 – She Does Them All
#2000 Orgy Freaks. Diane, a beautiful young California swinger, looks enough like the fabulous "Farrah" to be her sister.
Hoping to have a great afternoon with a three-way scene with Bonnie and Fred, Diane is very disappointed when Fred comes twice without even getting his cock into her.
Diane invites over two reliable studs and proceeds to take her pleasure with them, bringing them both off in her fantastic face.
Size: 147Mb
Type: mp4
Duration: 00:07:29
Resolution: 768 x 576