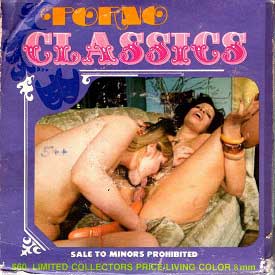 Porno Classics 14 – Fist Fucking Lovers. Featuring Brigit Olsen and Vanessa Del Rio.
USA produced 8mm hardcore sex loop, 1970s. Twosome sex (2 girls). Previous part: Porno Classics 13
Big tits, Sexy girls, Blonde, Brunette, Latina, Couch sex, Sex toys, Kissing, Pussy licking, Lesbian, Fisting.
PC-14 Fist Fucking Lovers. Once alone after a hard day on the porno set, Sonya and Jill once again give into their desires for hot fist fucking.
The juices flow as double dildos, tongues, and fists bring these two young sexests to the hights of pleasure. A fist fucking classic!
Size: 165Mb
Type: mp4
Duration: 00:05:22
Resolution: 768 x 576