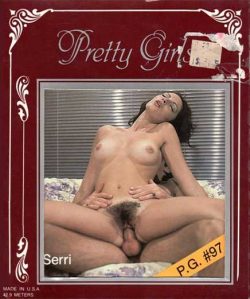 Pretty Girls 97 – Serri. Pretty Girls Pictures. Brown poster.
U.S.A. 8mm color sex film. Unknown cast (f, m). Twosome sex, Sexy girl, Hot body, Hairy pussy, Blowjob, Straight sex, Facial.
#97 Serri. Serri's hobby is gymnastics, and when she gets it on with her instructor, the throbbing twosome perform a series of semen-stirring sexercizes, including a doggie-fuck filled with manic outbursts of energy.
Her full-lipped, luscious mouth clings to his cock until she savors and swallows all of his milky white jizm.
Size: 153Mb
Type: mp4
Duration: 00:08:35
Resolution: 768 x 576