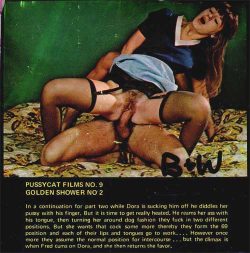 Pussycat Films 9 – The G Shower Part 2. US produced 8mm hardcore sex loop, 1973. Twosome sex (f, m).
Pussycat Films for adult home viewing. Living color. 200 ft reel. With subtitle.
Sexy girl, Skinny, Hot body, Small tits, Sexy ass, Hairy pussy, Blowjob, Straight sex, Facial.
* Girl also in: Puss 'N Boots 12 and Pussycat Films 5.
9 The G Shower Part 2. In a continuation for part two while Dora is sucking him off he diddles her pussy with his finger.
But it is time to get really heated. He reams her ass with his tongue, then turning her around dog fashion they fuck in two different positions.
But she wants that cock some more thereby they form the 69 position and each of their lips and tongues go to work….
However once more they assume the normal position for intercourse … but the climax is when Fred cums on Dora, and she then returns the favor.
Size: 118Mb
Type: mp4
Duration: 00:05:30
Resolution: 768 x 576