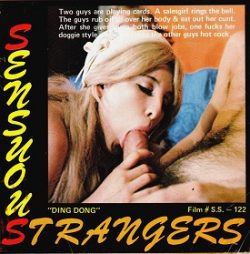 Sensuous Strangers SS 122 – Ding Dong. US produced classic 8mm color sex film. Threesome Sex (f, 2m).
Sales girl, Card Game, Blonde, Hot body, Living room settings, Hairy pussy, Sexy ass, Blowjob, Straight sex, Facial.
#122 Ding Dong. Two guys are playing cards. A sale girl rings the bell. The guys rub oil all over her body & eat out her cunt.
After she gives them both blow jobs, one fucks her doggie style while she sucks the other guys hot cock.
Size: 203Mb
Type: mp4
Duration: 00:11:22
Resolution: 768 x 576