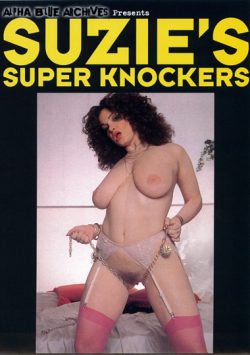 Suzie's Super Knockers (1970s). US produced loop compilation.
Featuring Dorothy LeMay, Jennifer West, Lisa De Leeuw, Lisa K. Loring, Margrit, Phaedra Grant, Susan Nero aka (Sue Nero), Veri Knotty, Blair Harris, Johnny Hardin, King Paul, Mike Horner, Reggie Gunn.
Compilation, sexy girls, mature, busty, big tits, hot body, bedroom settings, hairy pussy, lesbian sex, blowjob, anal, hardcore sex, facial.
Thanks to FLBMAC31 for providing the identification and storyline of the loops.
1. Limited Edition 52 – 44′ Lesbians (Lisa DeLeeuw, Susan Nero)
The two have a lesb tryst in a wood paneled room on a bed with blue sheets & red blanket.
2. Diamond Collection 96 – Lady's Pet (Margrit, Susan Nero)
A lesb tryst on a king water bed with a red/orange satin bedspread and several throw pillows incl some heavy tongue & finger action with a long white bulb vibrator as they kneel on a sheepskin rug.
3. Limited Edition 20 – Lesbian Affair (Jennifer West, Susan Nero)
Sue sits back in a goldish uphoslstered easy chair beside a wh phone on a sm table in a room with green walls as Jennifer kneels on the floor working her over with tongue and a rubber dong.
4. Showgirl Superstars 135 – Lick Me Clean (Susan Nero, Veri Knotty)
Sue sits on the carpet in front of a blazing red-brick fireplace stoop as her girlfriend kneels on R profile to fondle her legs. They move over to a red easy chair where they strip each other out of their clothes and then lay back L across a couch with gold & off-white print design. Veri ties her pussy in her trademark knot as Susan eats.
5. Connoisseur Film 1 – Little Big Tits (Lisa K. Loring, Susan Nero)
Sue lays back on her bed with quilt-pattern pillowcases mast beside her raggady ann style throw pillow playing with herself when her girlfriend crawls across the bed to join her.
6. Diamond Collection 4 DCL – Hard Workers (Susan Nero, Johnny Hardin, King Paul)
She returns fm the store with some cans of beer and puts them in the fridge. She keeps one for herself and sits at the sm kitchen table to enjoy it when two construction workers walk thru the back door into the kitchen. She has one sit back in the kitchen table and kneels between his legs to suck him off till he cums down her hands. His blk partner plays with her tits & has her drop her jeans before he sits her back on a sm round wooden kitchen table. King eats as the other stands beside her jerking a still-hard cock for him to suck again. They each take turns giving her a hard mish before she bends over for a dog. They finally take her to the bedroom and ball her across a king bed with a maroon bedspread until she drains them both.
7. Limited Edition 1003 – Wild For Cock (Susan Nero, Reggie Gunn)
A ladder leans against the lt green/purple walls as they mess around on a twin bed with a purple blanket.
8. Connoisseur Film 2 – Black Chauffeur (Susan Nero, King Paul)
King opens the door and escorts Sue from her blk limousine. Once inside a wood-panelled room they share some champagne until Sue lifts up and taunts him with her huge tits. She kneels in front of him to suck him hard before he dogs her until he cums in her champagne glass. She drinks it down and licks it clean.
9. Erotic Fantasies 815 – Arnold's Punishment (Susan Nero, f, Mike Horner)
They sit beside each other on a red velour couch before they 3-way across a red couch.
10. Pleasure Production 2035 – Cousin Sherry (Dorothy LeMay, Susan Nero, Blair Harris)
They have a 3-way on a plaid couch and across the carpet till he cums on Sue's face and Dorothy leans over to lick it off.
11. Roger Rimbaud Production 28 – Cum One, Cum All (Susan Nero, Phaedra Grant, Jonathon Younger)
They 3-way until he anal cg's her. Nasty bra buster Susie with equally stacked Lisa DeLeeuw in 44 Inch Lesbians, a cock sucking and pussy lapping orgy with young Dorothy Lemay in Cousin Sherry, Suzy sucks black balls while the cock jabs into her girlfriend's asshole in Cum One, Cum All, and she handles 2 construction worker's fat cocks in Hard Workers. This nasty deep throating busty slut spreads her pussy open for and cock that wants to fuck it!
Size: 1.22Gb
Type: mp4
Duration: 02:02:43
Resolution: 640 x 480