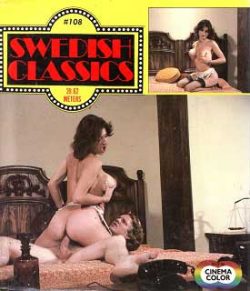 Swedish Classics 108 – Gettin' Hot. Classic 8mm color sex film, featuring Laurie Landers and Don Hodges.
Swedish Classics Color by CINEMA COLOR. 39.62 METERS. Twosome sex (f, m).
Sexy girl, Busty, Big tits, Brunette, Living room settings, Sexy lingerie, Blowjob, Straight sex, Facial.
Male ID by Rex Miles.
#108 GETTIN' HOT. Diane is getting turned on by her hot tub until Fred calls her with a better idea of how to get her hot!
She exchanges the hot tub for his bouncing bed and you'll quickly share their horny, humping, fast and hard debauchery
Size: 121Mb
Type: mp4
Duration: 00:07:34
Resolution: 768 x 576