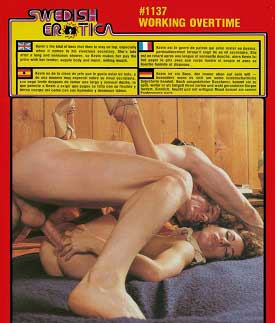 Swedish Erotica 1137 – Working Overtime. Featuring Loni Sanders and Kevin James.
Swedish Erotica Vintage 8mm hardcore sex loop, U.S.A. produced, 1970s. Twosome sex (1 girl – 1 guy).
Sexy girl, Skinny, Shower, Hairy pussy, Small tits, Secretary, Office sex, Blowjob, Straight, Facial.

1137
Working Overtime
. Kevin's the kind of boss that likes to stay on top, especially when it comes to his vivacious secretary.
She's late after a long and sensuous shower, so Kevin makes her pay the price with her tender, supple body and moist, willing mouth.
Size: 418Mb
Type: mp4
Duration: 00:17:36
Resolution: 768 x 576