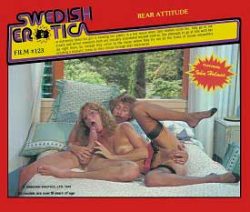 Swedish Erotica 123 – Rear Attitude. Classic 8mm color sex film, featuring Eileen Wells and John Holmes. US produced loop, 1978.
Twosome sex, Sexy mature girl, Blonde, Hairy pussy, Big cock, Blowjob, Straight. Anal sex, Facial.
#123 Rear Attitude. An extremely beautiful girl is tending her plants in a hot house when John Holmes visits her.
They go to the entrance and within moments both are sexually stimulated beyond control.
She attempts to go at him with her lips right there, but instead they retire to the house where they try out all the forms of sexual encounters including a dramatic scene as they climax through anal intercourse.
Size: 109Mb
Type: mp4
Duration: 00:06:08
Resolution: 768 x 576