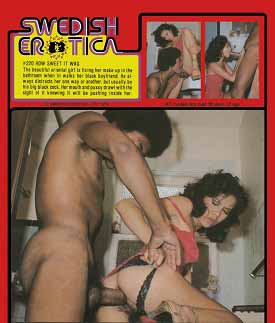 Swedish Erotica 220 – How Sweet It Was. Swedish Erotica 8mm loop series, featuring China Leigh.
U.S. produced, 1979. Twosome sex, Sexy girl, Hot body, Skinny, Bathroom sex, Sexy ass, Blowjob, Straight sex, Big cock, Facial.
220 How Sweet It Was. The beautiful oriental girl is fixing her make-up in the bathroom, when in walks her black boyfriend.
He always distracts her one way or another, but usually by his big black cock.
Her mouth and pussy drawl with the sight of it knowing it will be pushing inside her.
Size: 119Mb
Type: mp4
Duration: 00:06:15
Resolution: 768 x 576
Size: 260Mb
Type: mp4
Duration: 00:06:13
Resolution: 1024 x 768