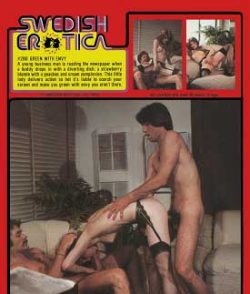 Swedish Erotica 280 – Green With Envy. Classic 8mm color sex loop, featuring Dorothy LeMay, Blair Harris and Mike Ranger. U.S.A., @1979.
Threesome sex, Skinny girl, Sexy body, One girl Two guys, Blowjob, Straight sex, Facial.
#280 GREEN WITH ENVY. A young business man is reading the newspaper when a buddy drops in with a diverting dish.
A strawberry blonde with a peaches and cream complexion.
This little lady delivers action so hot its liable to scorch your screen and make you green with envy you aren't there.
Size: 168Mb
Type: mp4
Duration: 00:09:07
Resolution: 768 x 576