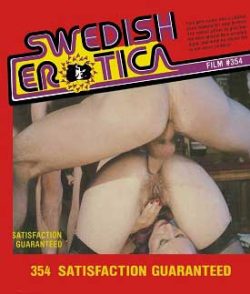 Swedish Erotica 354 – Satisfaction Guaranteed. Featuring Eileen Wells, Marlene Munroe and Kevin James.
Swedish Erotica U.S.A. classic 8mm film, 1980. Threesome sex, Shopping, Sexy girls, Brunette, Mature, Hot body, Hairy pussy, Blowjob, Deep throat, Sex from behind, Anal, Straight sex, Facial.
#354 Satisfaction Guaranteed. Two girls come into a clothing store looking for new dresses.
The owner offers to give them his own special deal on what's good, and what he show the is not more clothes.
Size: 109Mb
Type: mp4
Duration: 00:04:56
Resolution: 768 x 576