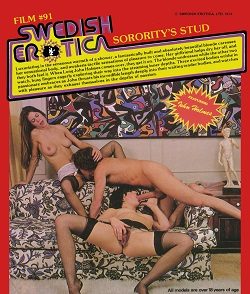 Sorority's Stud. Swedish Erotica 93. Swedish Erotica 8mm loop, featuring John Holmes and Virginia Winter. US produced and published, 1988. Threesome Sex (2f, m).
Sexy Girls, Mature, Bedroom Settings, Blowjob, Big Cock, Hardcore Sex, Facial.
As per IAFD the busty maid is Carol Harper, ID by Ailein.
Two versions available.
Luxuriating in the sensuous warmth of a shower, a fantastically built and absolutely beautiful blonde caresses her sensational body, and awakens tactile sensations of pleasure to come. Her girlfriend helps dry her off, and they both feel it. When Long John Holmes comes over, they get it on. The blonde undresses while the other two watch, busy fingers eagerly exploring their way into the steaming inner depths.
Three excited bodies writhe in passionate embraces as John thrusts his incredible length deeply into their waiting tender bodies, and watches with pleasure as they exhaust themselves in the depths of passion.
Size: 162Mb
Type: mp4
Duration: 00:08:34
Resolution: 854 x 480
Size: 154Mb
Type: mp4
Duration: 00:08:10
Resolution: 854 x 480