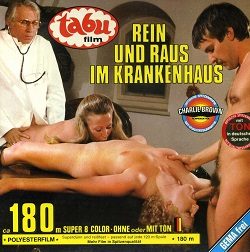 Rein und Raus im Krankenhaus. Up to strange things in the hospital. Tabu Film 158. Tabu Film. Charlie Brown FilmProduction. 180 meter. Super 8 color. Hardcore sex film, featuring Mika Barthel. Germany published.
Sexy Girls, Mature, Hot Body, Hospital Settings, Gym Sex, Shaved Pussy, Blowjob, Hardcore Sex, Anal, Facial.
Film footage is part of adult feature film: Clinique pour soins très spéciaux.
Full cast: Barbara Moose, Elodie Delage, Mika Barthel, Cyril Val, Dominique St. Clair (male) and Jean-Pierre Armand, by Ajit Parkash.
Size: 473Mb
Type: avi
Duration: 00:22:37
Resolution: 674 x 524