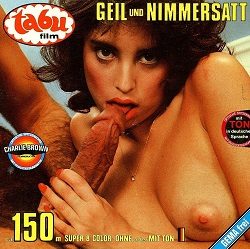 Tabu Film 167 – Geil und Nimmersatt. German published, French filmed super 8mm vintage sex loop. 150 meter – super 8 color. Tabu de Luxe.
Sexy girls. Mature. Blonde. Brunette. Skinny. Hairy pussy. Blowjob. Outdoor sex. Straight sex. Facial.
Horny and Insatiable. Nicola loves the unusual in regard with sexgames. He likes to watch masturbating women, and he also likes to be watched when making love in public levatories. He doesn't care how the girl he's fucking looks like. All the matters is, that she is horny. Horny and always willing to make him come.
Size: 410Mb
Type: avi
Duration: 00:21:45
Resolution: 854 x 480