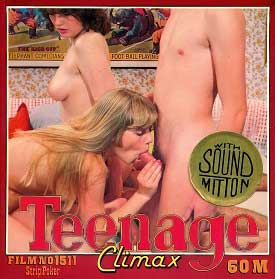 Teenage Climax 1511 – Strip Poker. Featuring Christa and Gudrun.
Teenage Climax super 8mm vintage sex loop series, by Filmlaboratoriet A-S. Denmark produced.
Foursome sex (2f, 2m). Card game, Sexy girls, Teens, Blonde, Hot body, Skinny, Bedroom settings, Hairy pussy, Blowjob, Straight sex.
* Third version: Strip Poker
1511 Strip Poker. The game gets off to a good start and quickly develops into small group sex orgy with sucking and licking in every possible combination.
They swap partners and only after the girls have had several wonderful orgasms.
That make their young bodies writhe in ecstasy do the two men shoot their warm sperm over these two well-satisfied lovelies.
Size: 157Mb
Type: mp4
Duration: 00:08:15
Resolution: 768 x 576
Size: 135Mb
Type: mp4
Duration: 00:08:06
Resolution: 768 x 576
Size: 272Mb
Type: mp4
Duration: 00:08:05
Resolution: 768 x 576