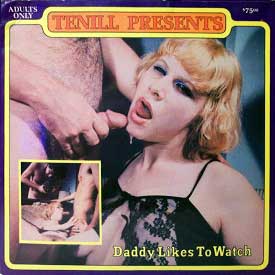 Tenill Film 36 – Daddy Likes To Watch. Featuring unknown girl, unknown guy and Don Fernando.
Classic 8mm hardcore sex film, US produced and published loop, 1970s.
Threesome sex, Roleplay, Sexy blonde, Hairy pussy, Busty, Blowjob, Sex from behind, Straight sex, Facial.
* The title doesn't match the box description, also the performers are professional and this is a fictional plot. 
36 Daddy Likes To Watch. Cathy was bored – her husband, John, was off to work and she had nothing to do but watch television.
But it didn't work, so she called a repairman. He was hot for it and so was Cathy – but their hot and juicy fuck was interrupted by John!
But he's not mad – he lets her suck him and then sits back to watch as his wife works out with Don, the repairman!
Size: 190Mb
Type: mp4
Duration: 00:08:31
Resolution: 768 x 576