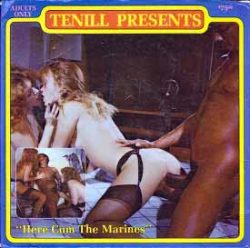 Tenill presents: Here Come The Marines. Tenill Film 23. Adults Only.
U.S. produced 8mm color sex film, featuring Kitty Shayne, Lori Blue and unknown black guy. Threesome Sex (2 girls – 1 guy).
Interracial sex, Sexy mature girls, Blonde, Busty, Sexy lingerie, Bedroom sex, Blowjob, Straight sex.
* Magazine scans part of: Gourmet Special 20 – Super Film Review
#23 Here Come The Marines. Sherry is making love to Lori, unaware that her black marine husband is due home.
When he sees his wife with a woman he flies into a rage that is subdued only when Lori kisses him and his wife blows him.
The three make love until Lori is covered with cum and Sherry licks it clean.
Size: 155Mb
Type: mp4
Duration: 00:08:39
Resolution: 768 x 576
Size: 176Mb
Type: mp4
Duration: 00:07:15
Resolution: 768 x 576