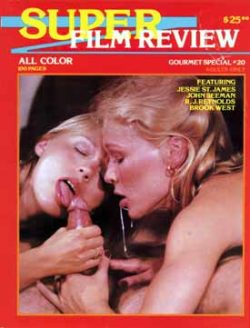 Gourmet Special 20 – Super Film Review. All Color – 100 pages. Adults Only.
Classic U.S.A. produced film review magazine. Featuring Brooke West, Jesie St. James, John Seeman and R.J. Reynolds.
The magazine is listed in separate stories as bellow
1. Belle Femme 1 – Embrace (f, Jonathon Younger)
2. Tenill Film 29 – The Dinner Party (2f, m)
3. Tenill Film 30 – Pussy Thieves (Sharon Kane, f, m)
4. Tenill Film 20 – When The Cat's Away… (Cris Cassidy, f, m)
5. Roger Rimbaud Production 2 – Army Bitches (Stacey Goldman, Jon Martin)
6. Tenill Film 27 – Stableboys & The Lady (f, John Seeman, m)
7. Roger Rimbaud Production 4 – Sleeping Angels (Brooke West, Karen Parsons, Don Fernando)
8. Roger Rimbaud Production 5 – Crazy Stud (Eileen Wells, R.J. Reynolds, f)
9. Tenill Film 33 – Pretty Baby (Crystal Dawn, Blair Harris, Jonathon Younger)
10. Tenill Film 21 – Hot Little Body (China Leigh, Blair Harris)
11. Tenill Film 28 – Lover's Lane Lust AKA Lover's Lust (f, Don Fernando, Jesse Adams)
12. Tenill Film 34 – The Cult Sex Rite (f, Holly McCall, m)
13. Belle Femme 3 – Primary Sex (Jesie St. James, f, m)
14. Tenill Film 23 – Here Come The Marines (Kitty Shayne, Lori Blue, m)
15. Roger Rimbaud Production 8 – Deep Throat Housewife (Cris Cassidy, Miki Star, Jerome Deed)
16. Roger Rimbaud Production 7 – Champagne Orgy (Fatima Hamoud, f, John Seeman)
Full cast Brooke West, China Leigh, Cris Cassidy, Crystal Dawn, Eileen Wells, Fatima Hamoud, Jesie St. James, Karen Parsons, Kitty Shayne, Lori Blue, Miki Star, Stacey Goldman, Blair Harris, Don Fernando, Jerome Deed, Jesse Adams, John Seeman, Jonathon Younger and R.J. Reynolds amongst others.
Size: 254Mb
Stories: 16
Format: JPEG