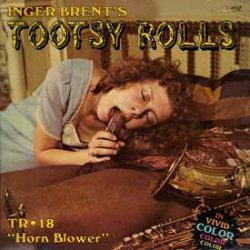 Tootsy Rolls 18 – Horn Blower. Produced by Inger Brent.
Tootsy Rolls Super 8mm hardcore sex film, U.S.A. produced and published.
Interracial sex, Sexy girl, Skinny, Hot body, Hairy pussy, Sexy ass, Blowjob, Straight sex, Facial.
Twosome sex (1 girl – 1 guy). Featuring Jessica Moore and unknown black guy.
Female ID by Krackerjackdk
Size: 167Mb
Type: mp4
Duration: 00:09:22
Resolution: 768 x 576