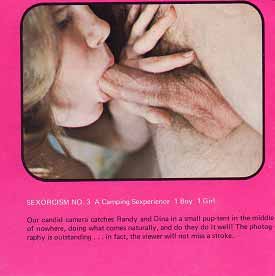 HD Sexorcism 3 – A Camping Sexperience. Twosome sex (1 girl – 1 guy).
Classic U.S.A. produced and published 8mm color sex loop, featuring Lynn Holmes. @1974. Sex in a tent.
Blonde girl, Hairy pussy, Skinny, Small tits, Sexy ass, Blowjob, Straight sex, Cum-shot.
Additional info and Female ID by Cyberlum
* First posted as: Camping Trip
* Film footage part of: Geek (1973).
3 A Camping Sexperience.
Our candid camera catches Randy and Dina in a small pup-tent in the middle of nowhere, doing what comes naturally, and do they do it well!
The photography is outstanding … in fact, the viewer will not miss a stroke.
Size: 115Mb
Type: mp4
Duration: 00:08:07
Resolution: 768 x 576
Size: 538Mb
Type: mp4
Duration: 00:10:00
Resolution: 1280 x 960