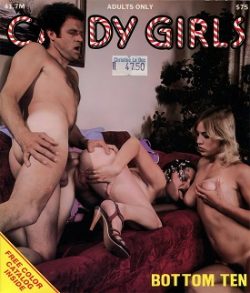 Candy Girls 129 – Bottom Ten. US produced 8mm color sex film, featuring Laurie Noel, unknown female and Ray Wells.
Candy Girls sex loop series. 41.7 meters. Threesome sex (2f, m).
Classic, 8mm sex film, Sexy girls, Hot body, Hairy pussy, Blowjob, Lesbian sex, Pussy licking, Straight, Anal, Facial.
#129 Bottom Ten. Pam got her hair corn-rowed to make her a 10 The new look had the right effect as Beth and Ray can't wait to turn her on.
Ray gives her a little head and gets so worked up he has to have both girls, both ways. He fucks Beth first and then gets Pam's ass.
But he saves his cum for Settles lace.
Size: 150Mb
Type: mp4
Duration: 00:04:06
Resolution: 768 x 576