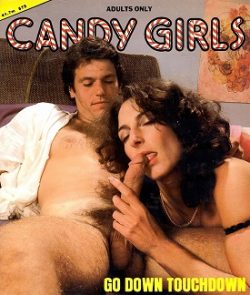 Candy Girls 111 – Go Down Touchdown. Featuring Jane Lindsay and Bud Wise.
Candy Girls 8mm hardcore sex loop, US produced and published film.
Classic, 8mm sex film, Sexy girl, Mature, Brunette, Skinny, Small tits, Hairy pussy, Blowjob, Straight sex, Facial.
#111 Go Down Touchdown. Her busy fingers bring Jane's football hero up hard as a goal post.
After a muff-driving scrim-mage Jim shows her how to screw in positions she didn't think possible! He comes on her face, but she wins the sex game by hungrily sucking him dry.
Size: 137Mb
Type: mp4
Duration: 00:08:12
Resolution: 768 x 576