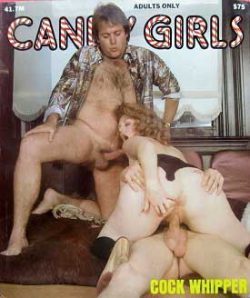 Candy Girls 124 – Cock Whipper. 41.7 meters.
USA published Candy Girls 8mm hardcore sex loop, featuring Kitty Shayne, unknown guy and Michael Morrison. 1980s?.
Threesome sex, Sexy girl, Mature, Hot body, Hairy pussy, Sexy ass, Blowjob, Straight sex, Facial.

#124
Cock Whipper
. Hungry for climaxes, sexy Sarah screws down two horny studs at the same time.
Her pussy gobbles up one prick while her mouth sucks off another.
They take turns eating and screwing her, but she just takes a deep breath and holds her cunt open for more Twin jets of cum don't put out her fire!
Size: 210Mb
Type: mp4
Duration: 00:09:38
Resolution: 768 x 576