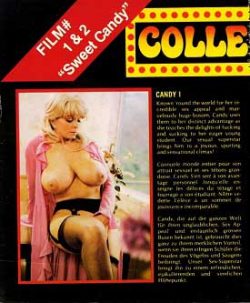 Collection Film 1 – Candy 1. First Collection film of the series.
Collection US produced 8mm vintage sex loop, featuring unknown male and Candy Samples.
Twosome sex (f, m). Mature girl, Busty, Blonde, Big titsBedroom settings, Hairy pussy, Blowjob, Straight sex.
Followed by: Candy Part two
#1 Candy 1. Known round the world for her incredible sex appeal and marvelously huge bosom.
Candy uses them to her distinct advantage as she teaches the delights of fucking and sucking to her eager young student.
Our sexual superstar brings him to a joyous, spurting and sensational climax!.
Size: 135Mb
Type: mp4
Duration: 00:07:18
Resolution: 768 x 576