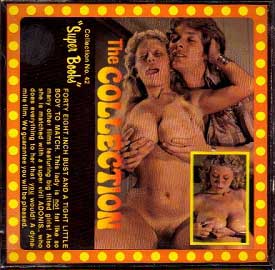 Collection Film 42 – Super Boobs.
Collection Film series 8mm hardcore sex loop, featuring Dawn Knudsen and Mike Ranger.
Regular 8mm color hardcore sex film, USA produced 1970s. Twosome sex (1 girl – 1 guy).
Sexy girl, Blonde, Mature, Big tits, Busty, Hot body, Blowjob, Straight sex, Facial.
42 Super Boobs. We don't call her "Super Boobs" for nothing. Not with a pair of sizzling forty-eights to feed and tease her lover!
She's not only got magnificent tits, she knows how to give every kind of pleasure – no matter how "far out."
Her creative and imaginative sexual talents are surpassed only by her ability to please.
Size: 133Mb
Type: mp4
Duration: 00:07:27
Resolution: 768 x 576
Size: 182Mb
Type: mp4
Duration: 00:08:43
Resolution: 768 x 576