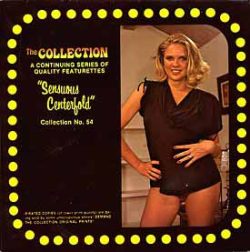 Collection Film 54 – Sensuous Centerfold.
Collection 8mm sex loop series, U.S.A. produced and published sex film, featuring Nancy Suiter and Mike Eyke.
Sexy girl, Blonde, Sexy lingerie, Hot body, Skinny, Sexy ass, Handjob, Hairy pussy, Pussy licking, Sex from behind, Blowjob, Straight sex, Facial.
* Previous version: Sensuous Centerfold
#54 Sensuous Centerfold. Modeling for a men's magazine is a lot of fun, according to Susan, our sensuous centerfold.
All you have to do is show and share your body with everyone.
Size: 157Mb
Type: mp4
Duration: 00:08:09
Resolution: 768 x 576