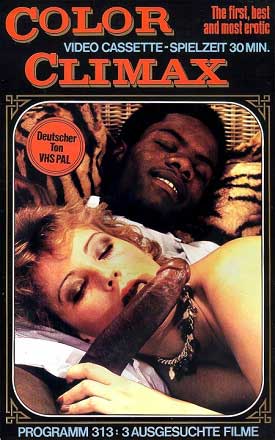 Color Climax Programm 313. Danish published.
Classic Color Climax Programm – Video Cassette – Half Hour Tape. The first, best and most erotic. Compilation.
Including: Black Hammer, Busty Baller and Bum Fuckers. Featuring Karin, Lizzie, Nikki Stanton and Bill The Bull amongst others.
Compilation, Sexy girls, Interracial sex, Skinny, Hot body, Group sex, Orgy, Hairy pussy, Blowjob, Straight, Anal, Facial.
1. Black Hammer A young couple book into an hotel and are disturbed mid-fuck by a black waiter with a monster cock! The girl sucks it whilst her husband takes pictures. This is a great start to their holiday, especially for the girl who sucks both men off at once!
2. Busty Baller A naughty big titted girl seduces her window cleaner and takes his cock between her ample boobs. He shags her like a bitch on heat, and her breasts bounce together as they swing, giving the impression that they're giving him a round of applause!
3. Bum Fuckers Some suggestive dancing and fondling leads to a dirty party, where two couples suck each other off and the guys finger the girls' arseholes. There's energetic multi position buggering and exciting close-ups. And cocks and arses being licked clean!
Size: 953Mb
Type: mp4
Duration: 00:25:41
Resolution: 768 x 576