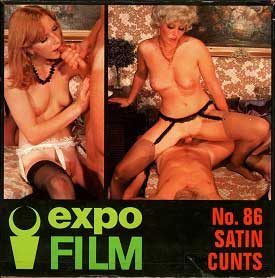 Expo Film 86 – Satin Cunts. Danish vintage 8mm sex loop, 1978.
Expo Film, by Color Climax 8mm hardcore sex film. Featuring Lene.
Foursome sex, Sexy girls, Blonde, Shaved pussy, Hairy, Blowjob, Pussy licking, Group sex, Straight, Facial.
86 Satin Cunts. Two men are so deeply involved in their game of chess that they forget all about their wives.
"How boring our husbands are!" moans one of the girls, but they soon find a way to amuse themselves in the bedroom!
First they compare their pubic hair and then one of the girls proposes that they shave it off and surprise their husbands.
They get caught in the act. Naturally the men offer to help! This is only the start of a fantastic fuck and suck orgy with plenty of close- ups!
Size: 301Mb
Type: mp4
Duration: 00:10:21
Resolution: 1024 x 768